Happy St. Patrick's Day!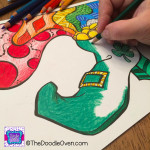 Where I am from we are well into spring weather when this holiday arrives! The grass is fresh and green, and new vibrant leaves and flower buds are opening in the sunshine! To celebrate the arrival of St. Patrick's Day (and spring) I have created doodle coloring pages just for you to enjoy!
If you love coloring like our family does, you'll want to check out the newly updated St. Patrick's Day Doodle Coloring Pages! Warning: You might just become a wee bit addicted to coloring these pages!

Click here to get your coloring pages.
I'd love to stay in touch with you…sign up for email blog updates
or click an icon below and follow as many as you want!