Try a surprisingly delectable  Homemade Bacon-Maple Ice Cream. Before you casually dismiss this recipe, you must know that everyone who has sampled this scrumptious, frozen dessert, was left with delighted taste buds and asking for more.
If you enjoy this, I'd love to have you sign-up for periodic fun & easy-reads. You'll be glad you did!
 Bacon-Maple Ice Cream
 Ingredients:
3-4 T. brown sugar (to candy the bacon)
5 thick cut strips of bacon (not generic, typically very salty)
4-6 T. lactose-free margarine
¾ c. brown sugar
1 c. whole lactose-free milk, well chilled
2 c. Original Flavor creamer (lactose free)
1 C. Cool Whip (lactose free)
1 c. maple syrup
Step One: Candy the Bacon
Preheat the oven to 400F (200C).
Lay bacon strips on a baking sheet lined with aluminum foil, shiny side down.
Sprinkle 1½-2 teaspoons of brown sugar evenly over each strip of bacon, depending on length.
Bake for 12-16 minutes. Midway during baking, flip the bacon strips over and drag them through the dark, syrupy liquid that's collected on the baking sheet. Continue to bake until as dark as mahogany. Remove from oven and cool the strips on a wire rack. (Basically, bake them until you think they are about to burn!)
Once they are crisp, cool them on a wire rack, chop into little pieces. (About the size of grains of rice.)
(Candied bacon bits can be stored in an airtight container and chilled for a day or so, or stored in the freezer a few weeks ahead.)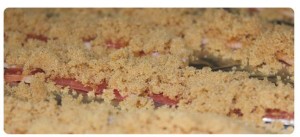 Step Two: Making the ice cream base
In a medium saucepan, pour 1 c. real Maple syrup. Cook on medium heat. Let boil until reduced by half, stirring frequently. Once reduced, let it cool almost to room temperature. (Place pan in a bowl of ice to speed the cooling.)
In another medium saucepan melt margarine with the 3/4 c. brown sugar. Once melted, let cool slightly.
In a large bowl, whisk together the milk, creamer, reduced maple syrup, and brown sugar mixture. Finally, fold in the Cool Whip. Blend until nearly all lumps of Cool Whip are gone.
 
Step Three: You're almost there!
Pour the ingredients into an ice cream freezer and freeze according to manufacturer's instructions. Stir in candied bacon bits at the very end of the freezing process or once you've taken the ice cream out of the freezer. If they are left in too long, they lose their crispiness.
Yield: About ¾ qt (¾l)
~~~~~~~~~~~~~~~~~~~~~~~~~~~~~~~~~~~~~~~~~~~~~~~~~~~~~~~~~~~~~~~~~~~~~~~~~~~~~~~~~~~~~~~
Click here to get the recipe for Easy Homemade Vanilla Ice Cream
~~~~~~~~~~~~~~~~~~~~~~~~~~~~~~~~~~~~~~~~~~~~~~~~~~~~~~~~~~~~~~~~~~~~~~~~~~~~~~~~~~~~~~~
I find cooking to be a creative outlet, so I experiment with different combinations and flavors. I believe a creative presentation of the food is vital…almost as important as how the food actually tastes. I believe people decide before they ever taste food if they will like it based on the appearance.
So, here are a few pictures of how I added a little pizzazz to the ice cream dessert!
I tied 1″ aqua grosgrain ribbon around the neck of an 8 oz. Ball Collection Elite Wide Mouth Mason Jars w/ Silver Vacuum Seal Lid. (I ADORE these!)
I created a tiny label on photo paper, then clipped on the the ribbon with a mini clothes pin.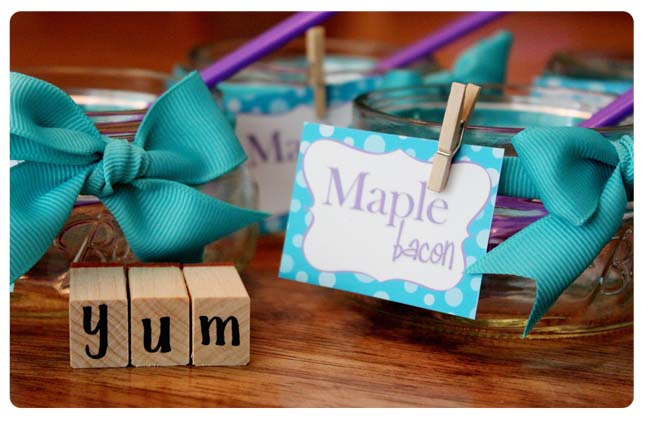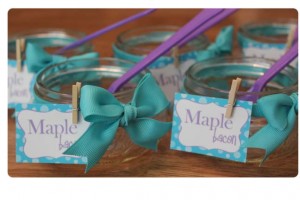 For fun, I twirled the bacon into spirals (stuffed with brown sugar) and candied as directed earlier. I put the bacon spirals sticking out of the dessert for "garnish". Here is how they looked: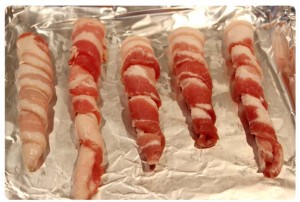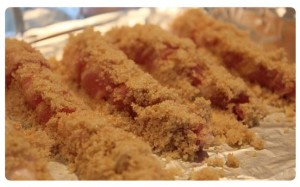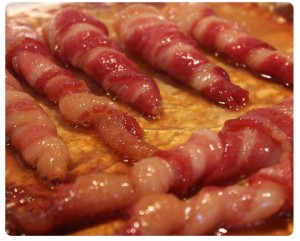 A special thanks to my hubby, father-in-law and brothers-in-law for taste-testing everything for me! I know it was a brutal job, but someone had to do it!
Note: Because several of my family suffers with lactose intolerance, this recipe is created to be lactose-free. There is no change in flavor when you use lactose-free ingredients. It simply allows people who generally have to forego homemade ice cream to be able to enjoy the dessert with everyone else.
Coming soon…How to paper mache and be successful!
Thanks for visiting The Doodle Oven! Be sure to tell your friends about us!
{Check out what is at The Gettin' Place or on Teachers Pay Teachers}