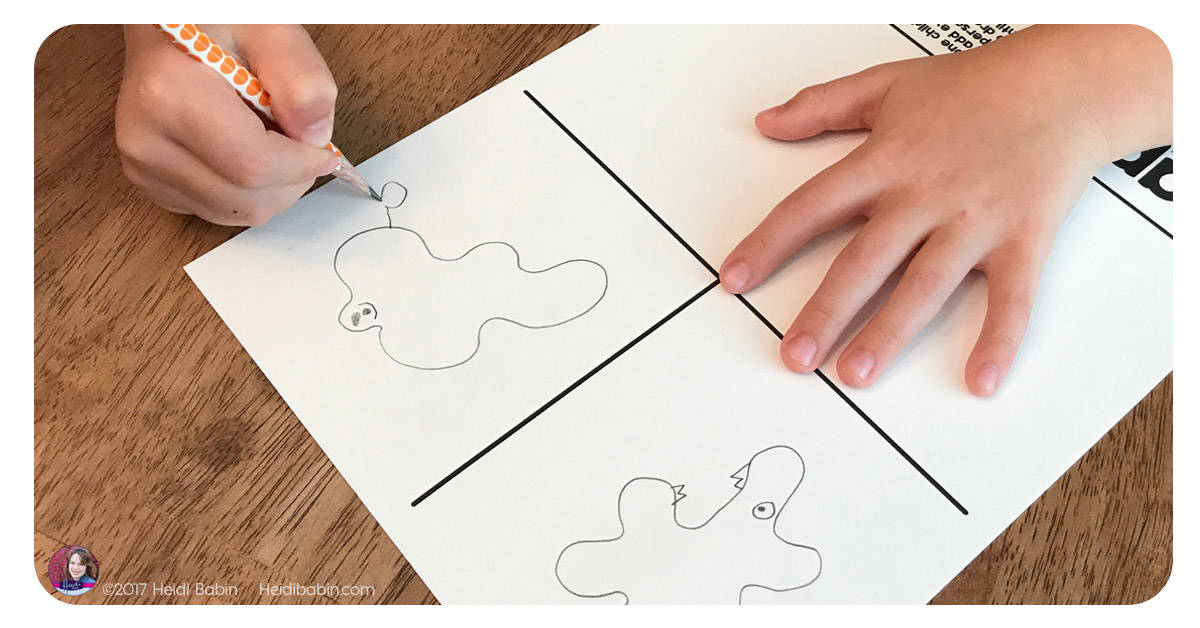 Have you ever stood in front of your class and realized they were not yet awake for the morning? Or maybe you were tackling a new difficult skill, and the kids were frustrated. What about kids who are bored by inside recess?
I have an easy game just for you! This freeform game has absolutely no prep and can be used at the spur of the moment any time in your classroom.
This brief video shows how we play a schedule friendly, stress-relieving game with freeform shapes to help students relax and reframe the difficult work at hand. It also allows them to get their brains in an inspired mode to solve problems in creative ways. I created this game because of a need I saw in my students, and have found it to be beneficial for them.
Supplies needed:
1. A pencil for each pair of students
2. A piece of paper for each pair of students
(Any type of paper will work: copy paper, notebook paper, loose leaf, light colored construction paper, etc.)
How to play:
Have students pair off. Each pair gets a sheet of paper.
Student 1 draws a freeform shape (a line that is irregular, assymetrical, and the shape is closed)
Student 2 takes the freeform shape and adds lines to change the freeform into something else (it may be an object, real or fictional, etc.)
Students 1 and 2 switch and play again.
Groups play multiple times each as time allows.
The goal of this activity is a quick break, so I usually allow each student approximately one minute for his/her part. (Again, be flexible with your students.)
Here is the video of my kids playing this game.
Optional Info:
I have students get in groups of two, but feel free to be flexible and do what works best for your class.
Game may be played on dry erase boards or on the main dry erase board.
Make a point to speak to students individually with encouraging compliments about his/her creativity during this activity.
Encouraged the students to turn the paper and look at the freeform from different angles.
Be sure the freeform created that the beginning point and end point touch (making it a closed shape)
If lines overlap in the freeform, it may become too much of a challenge for for some students who make the freeform into an object.
This activity is part of the Art in Every Class Bundle. This bundle is created to help classroom teachers who do not have art training, to be able to teach students about the elements and principles of art. (videos and activities included) Learn more here.